Kansas volleyball drops match to Iowa State
KUsports
,
Kansas
- November 22, 2018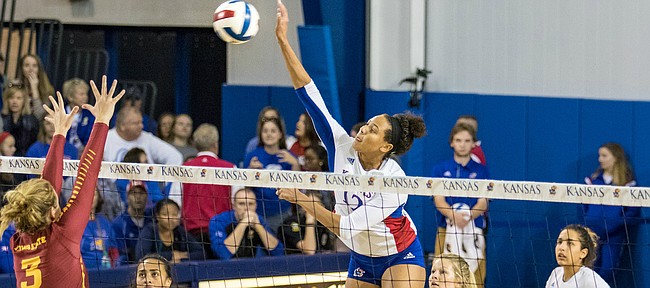 Kansas redshirt freshman outside hitter Ashley Smith jumps for a spike against Iowa State on Saturday, Nov. 19, 2016 at Horejsi Center. The Jayhawks won in five sets, clinching a Big 12 title. AdvertisementDespite a productive first set by Ashley Smith, the University of Kansas volleyball team suffered a sweep at Iowa State Wednesday evening.Smith logged 10 kills in the first set and made the Iowa State (15-13, 8-7 Big 12) defense look uncomfortable when the junior outside hitter would strike.

full story
Related news
Boston Herald All-Scholastic 2018: Boys volleyball All-Stars
BAY STATE CONFERENCEJake Fleming (Norwood); Dillon Hourican (Wellesley); Kyle McAuley, Eric Chabon (Brookline); Aaron Shapiro (Framingham); Eli Wallace, Cam Robins, Jack Cruickshank, AJ Gnieski (Needham); Max Waltzman, Brett Olen, Matt Flaherty (Natick); Chris ...